Do you feel uncomfortable sleeping on your bed because of the foul odors from the mattress?
Ah! It's the worst scenario when you hit the bed after a long tiring day to get a peaceful sleep, and you get up in the middle of the night irritated by the unpleasant odors and the invisible dust and germs particles that do not let you sleep properly.
I had suffered from this a few weeks back, and I can relate to you. But luckily, after a lot of research, I got the solution for mattress cleaning.
Yes! Mattress cleaning that turned my mattress just like the one when I bought it. And fortunately, it wiped all the foul odors and stains away. So, without wasting time, let's discuss the procedure.
Easy And Effective Method For Mattress Cleaning
Here is the step-by-step guide to mattress cleaning without damaging the mattress.
1. Vacuum The Mattress First
The first step for the mattress cleaning is vacuum clean it. Ensure that you vacuum the top and sides of your mattress entirely without leaving any overlapping areas.
Vacuuming the top of the mattress will clean off all the dirt and other unseen particles present on the mattress's surface.
LivePure Ultramite UVC HEPA Allergen Vacuum & Fabric Sanitizer Effectively Removes Dust Mites, Bacteria, Viruses on Bedding, Mattress, Furniture, Upholstery, White
$189.99
2. Sprinkle Baking Soda Across The Mattress
You might be thinking, a vacuum is enough to clean your mattress, but it isn't sufficient. You need to remove all the foul odors that arose from your mattress because of sweating, bacterial growth, and spills over your mattress. Or if you have kids or pets who might have urinated on your mattress, this step is crucial in the mattress cleaning to get rid of their smell.
Sprinkle the right quantity of baking over your mattress, making sure it is sprinkled all over your mattress.
3. Rub Baking Soda
As you have sprinkled baking soda over your mattress now, it's time to rub it efficiently so that it cleans away all the foul odor.
You can use a vacuum brush or toothbrush for rubbing it, but make sure whatever you are using, you should scrub it thoroughly.
After cleansing, leave it for at least 10 minutes so that the baking soda gets into the mattress properly and perform its task effectively.
4. Vacuum It Again
After the 10 minutes, now vacuum your mattress again to remove the extra baking soda left on the mattress.
If your vacuum cleaner is already filled with baking soda, empty it in the trash bin and then vacuum your mattress.
5. Remove The Hard Stains
This step is necessary for a mattress cleaning when you have some hard stains left after vacuuming and does not even clean away with the baking soda.
You can try out some other practices to get rid of those hard stains. We have discussed below the two most effective methods to remove the difficult stains.
Hydrogen peroxide solution– Hydrogen peroxide works perfectly in cleaning even the hardest stains. Take a spray bottle, add one cup of hydrogen peroxide, and dilute it with one water cup. You can also add the dish cleaner for better results. But before applying the hydrogen peroxide over the larger area of your mattress, I would recommend performing a patch test. Apply a small portion of this solution and check whether it damages your mattress or not. If it does not harm your mattress, then go for it.
Another effective method for mattress cleaning of hard stains is the vinegar solution. When you spray the vinegar solution on your mattress, which already had the baking soda, they both react to peel off the stains. Let them settle down for at least an hour. In the meanwhile, the baking soda and vinegar mixture pulls off the most hardened stains from your mattress.
For better mattress cleaning, sprinkle another layer of baking soda if you find any stain.
6. Leave The Mattress For A Few Hours
It is best if you do all these mattress cleanings in the evening so that you can leave the mattress overnight to get the best results.
7. Scrub The Mattress Again
After at least 8 hours, scrub the mattress with a vacuum brush to remove the baking soda residues. Scrub it gently so that there would be no leftover of the cleaning material.
8. Final Vacuum
Now the last and final step of mattress cleaning is the final vacuuming.
Make sure that you do not leave any area where some baking soda residue is present.
It is ideal for vacuuming the entire mattress and then hit it with some hard object so that the baking soda comes out.
Vacuum again and repeat this step one more time. This way, you can easily remove all of the baking soda out of your mattress.
Final Words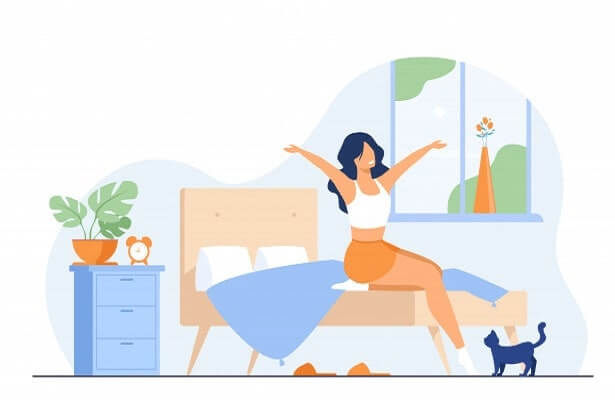 Mattress cleaning is necessary, which we often forget. We change and wash our bedding regularly, but we ignore the mattress unless it starts smelling bad.
It isn't only making us feel uncomfortable in sleep, but it is unhealthy for our health.
We don't even realize that our mattress is the home of bacterial growth because of the debris, dead skin cells that shed off our body while we sleep, sweat, and stains.
So, you should pay attention to your mattress and at least deep clean it once in six months or get rid of a mattress.