The kitchen is the busiest and used space in every home. It is necessary to keep it clean and neat to prevent any diseases and germs in your home.
There are so many tools that are used in the kitchen for cooking, and cleaning purposes, and the most important item that we use to clean our wet hands, surfaces, wet dishes, etc. is the hanging kitchen towel.
Hanging kitchen towels are usable in the kitchen in so many ways that we cannot even imagine. There are also some objects we have in the kitchen for which we should not use the kitchen towels including; meat, eggs, washbasin in the kitchen, and floor.
In this article, we will provide you guidance to help you select the best hanging kitchen towel for your kitchen.
Uses of Hanging Kitchen Towel
Here are some of the uses of hanging kitchen towel:-
1. Cleaning Dirty Counters
Kids usually spill milk or any other eatables on counters/shelves of the kitchen so, hanging kitchen towels can be taken off immediately and helps in cleaning the surface in an instant.
2. Drying Various Objects
It is also useful to clean and dry the wet dishes/plates after washing.
Have you ever thought that what is the first thing we look for after washing hands? It's a hand towel. Therefore, hanging towels are mostly useable by people for drying their hands.
Some people also use the hanging kitchen towels for drying fruits and vegetables after washing.
3. Holding Hot Items
These towels are also used in handling hot pots and holding the pot while cooking to keep away a hand from burning.
Also functional for other purposes such as taking out hot dishes from the oven, and keeping dishes in the hot oven.
4. Routine Cleaning
Hanging kitchen towels are also used to clean up the appliances and furniture placed in the kitchens as per daily routine cleaning.
Characteristics to Consider While Buying a Hanging Kitchen Towel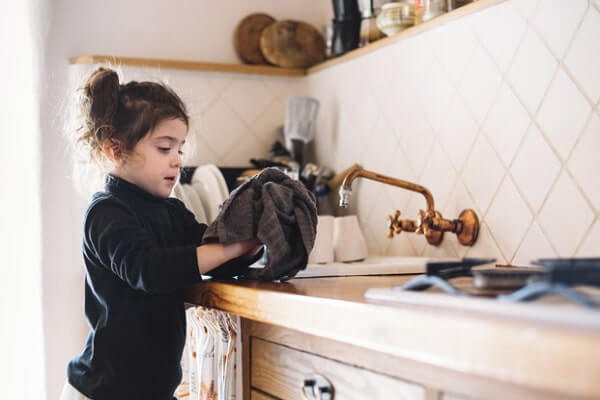 If you want to buy a highly durable hanging kitchen towel for your daily use, then you must look for the following characteristics:-
1. Stuff
Look for the towel which is made up of a soft and skin-friendly material, for example, soft cotton, and woven fiber.
The towel stuff must be absorbent and gentle. It should also be wrinkle-free to make it look good while hanging in your kitchen.
2. Measurements
Hanging kitchen towels come in variable sizes and measurements in the market so, we have to choose the one meeting our requirements.
If you have enough space to hang it then go for a bigger size, but if you have a small kitchen then opt for the smaller one to meet your needs.
3. Thickness
The absorbency depends upon the density of the towel. Thin and light towels will not be long-lasting as compared to the thicker ones because the kitchen towels are used most frequently and need to wash more often.
4. Color Tone
Always choose a color that matches your kitchen setting, tiles color, or flooring.
Best Hanging Kitchen Towels
We have shortlisted some of the best and top-rated products based on the customer reviews, features, and utility to make your buying easier.
1. Ritz Kitchen Wears 100% Cotton Checked & Solid Hanging Tie Towels
 This high quality hanging kitchen towel is made up of pure cotton without any mixing of nylon or any other fabric. It can be hanged easily at any place like with the oven handle, any towel stand, or cabinet handle.
Velcro is attached inside the hanging loops to make it stable while in a hanging position.     
It's an easily accessible hanging kitchen towel and useful in many ways from drying hands, to cleaning the counter shelves of your kitchen.
The dimensions of this towel are 17 × 8.8 inches and the weight is approximately 4.8 ounces. It is easy to wash and you can wash it either with your hands or in a washing machine.
It is a set of 2 hanging kitchen towels, one is solid colored and the other has a checkered design. The woven fibers are highly suitable to absorb maximum wetness to make your hands dry quickly if you keep it for drying hands in your kitchen.
| | |
| --- | --- |
| Pros | Cons |
| 100% cotton. | Can be attached/hanged on thin handles. |
| Variety of colors available. | |
2. LCI Set of 2 Pastels Hanging Kitchen Towels
LCI set of 2 pastels hanging kitchen towel is made from a soft and gentle cotton material which is easy to wash in the washing machine and by using hands. This hanging kitchen towel is 18 inches in length, and 16.5 inches in width.
It is purposeful for drying out the wet dishes, and wet hands. It can also be used for wiping the dirty shelves and tables when something is spilled over accidentally by yourself or your kids.
The weight of this item is 1.75 pounds only. Due to its lightweight property, it can be hanged anywhere like towel stands, refrigerator handle, and oven handle.
| | |
| --- | --- |
| Pros | Cons |
| 100% cotton. | Not suitable to wipe kitchen sink. |
| Affordable price. | |
| Absorbent. | |
3. Banyan Central Hanging Black Stripes Kitchen Dishcloth and Bathroom Hand Towel
This hanging kitchen towel is not only for the kitchen but also for the bathroom and dining room too. You can easily assemble it anywhere you want by passing it through the triangular space made at one end. It is useable to wipe hands, plates, tables and holding hot utensils.
This super-absorbent hanging kitchen towel is 16 × 21 inches in size. It can be attached to the oven handle, refrigerator handle, and towel stand in the bathroom. It is easy to put in and put off from any place and easily washable in the machine. The colors are fast and strong and could not be faded out by washing.
| | |
| --- | --- |
| Pros | Cons |
| Made from pure cotton. | Slips on the stands while using for hand wiping. |
| Affordable. | |
| Easy assembly anywhere. | |
Final Words
The kitchen is the place where we need to wipe hands and other objects a lot, and hanging kitchen towels acts as a handy item in every kitchen. So, invest in buying a good quality kitchen towel to make your kitchen look trendy and more stylish than ever before.
We have listed some of the best kitchen towels that you can choose to hang in your kitchen to make it look lovely.