As chemistry advanced, the human race moved from painting caves to human hairs and eventually pets. In today's modern world, our pets also attend festivals, and they are meant to compete with similar lads decorated with dyes, paints, collars, mini-embellishments, and whatnot. The same goes for dogs.
Dogs have their specific fur/hair paints that are purely meant for dogs only and are custom-made, hence the formula is very different from paints meant for human hair: free from ammonia, PPD, peroxides, and other known mutagens.
So people who are here in search of dos and don'ts of dyeing their dogs, only use dog hair dyes to color your dog.
Dos and Don'ts of Dog Hair Dyeing
Dog hair dyes are no more an under-researched topic. Explicit studies on dog hair dyes, their ingredients, use, results, and reactions have already been made and published.
Dog owners should therefore completely attain knowledge before coloring their dogs and even before reaching out to a dog-saloon.
The following points contain simple dos and don'ts of using dog hair dyes.
The first and foremost step should be to take advice from your dog's vet.
Never apply dyes meant for human hair. (they are carcinogenic for dogs)
Always read the Label before purchase and opt for the most suitable one.
Go for a patch test before working on your complete plan.
Hairdos can be messy; take suitable precautions. (Gloves, Aprons, etc)
Choose a space that can be cleaned easily. Dyes at homes are an uphill task.
Dogs can be a bit difficult to handle if their hair-do takes more time; treat them with affection.
Avoid the contact of dye with the dog's eyes, nose, mouth, and other sensitive areas.
If the Dog shows an allergy, reaction, or stress symptoms, stop dyeing and rinse off the already applied dye ASAP.
Types of Dog Hair Dyes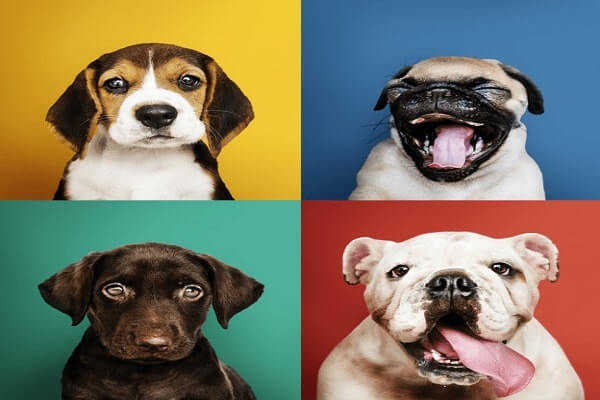 Dyeing dogs are fun and they look super-cute with those pinks and blues in their soft fur. People treating their dogs with a new dye on their birthday is a new common and if you ask me, they look adorable!
1. Synthetic Dyes
These are the ones that often come in tubes and are developed after required research. Any manufactured dyes can be bought from markets and applied with prescribed steps to obtain wonderful results.
2. Food Coloring
For years, ingredients from the kitchen have been used for purposes other than cooking. A similar scene lies in the DIY methods of dyeing a dog. Yellow, orange, green, pink, red, and similar colors of food coloring from the kitchen serve the best purpose, and being nontoxic it is safe to the skin, thus can be used easily with no usual health hazards.
3. Fur Chalks
Fur chalks are easily available in the market. They are canine-friendly and are used as both: dry as well as paste in water. The process may take more time than other dyeing options but users suggest fur-chalks to be more pet-loving and easily removable.
Reasons Why Parents Go for Dog Hair Dyes
1. Appeasing Friends and Family
Somehow parents color their pups not only to please their own eyes but also garner praise from fellows in dog-parks. They want praise from their friends and family about how well kept and well-groomed their dog is.
The question however arises, is pleasing the viewer's eye such a big of a motive to threaten your dog's health?
2. Mad Fashion Following
The fashion industry sees new and different style variations every season. Every day a new trend surfaces internet and people go all gaga to enter the trend. If this or somewhat similar is your reason for dyeing your dog, do not risk its poor life. PETA has already termed coloring pet hair as cruelty; it is the cause of strain, skin issues, and eventually perniciousness.
3. Regular Beautification
Professionals advise pet-grade dyes for occasional use only. You may do it if once in a blue moon you want some enjoyment with your dog on festivities like Halloween etc, but opting for dyeing your pup now and then is not recommended. This may risk your dog's health and general mental ability. Again, PETA is very clear about it.