Home Cleaning or Cleanliness is the specific name for no odors, no dirt, and no dust at any place. It is critically important for humans to keep themselves healthy and also maintain a neat and clean environment around them.
Since hygiene and cleanliness have become more important for living beings to avoid the spread of diseases/infections like COVID-19, cleanliness is one of the foremost requirements for a healthy life.
Humans and their surroundings are required to be cleaned regularly. Similarly, home is a place that requires special attention in this regard.
The purpose of home cleaning is to give a presentable look and protect ourselves from impurities, and germs present around us especially in our homes.
Table of Contents:
What is Home Cleaning?
Best Tips for Home Cleaning
Precautions
Final Words
What is Home Cleaning?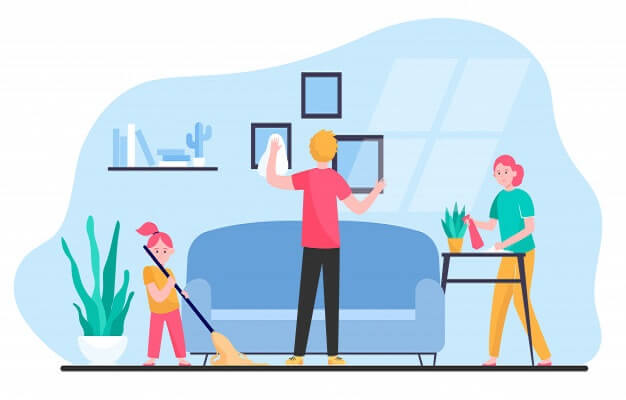 A home is a place where we live, eat, sleep, sit, and spend most of the time of our lives. Untidy beds, filthy floors, stained walls, mucky doors, unwashed dishes, and messy rooms in a home always welcomes germs, infections, and diseases. Therefore, home cleaning is keeping the home in a clean, neat, tidy, and hygienic condition.
Home cleaning can be carried out in so many ways, for example, by using a vacuum cleaner on the carpets, dusting the furniture/decorative items/wall hangings, maintaining the yard, washing the washrooms, and keeping the pets neat.
Therefore, regular home cleaning is very important for a healthy life. In this regard, some home items need daily cleaning while some require cleaning on a weekly or monthly basis.
Now we will discuss the best tips for home cleaning.
McCulloch MC1275 Heavy-Duty Steam Cleaner with 18 Accessories, Extra-Long Power Cord, Chemical-Free Pressurized Cleaning for Most Floors, Counters, Appliances, Windows, Autos, and More, Yellow/Grey
Best 7 Tips for Home Cleaning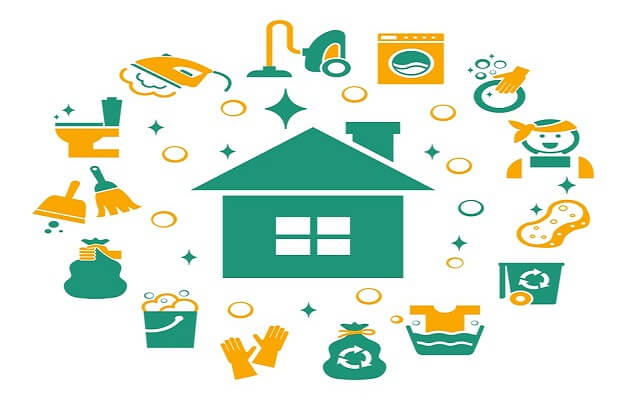 Remember, home is the reflection of the people that live in it. Therefore, it becomes really essential to make our home look clean, presentable, and also smell pleasant. Here are some useful tips in this regard:-
1. Clean Dirt, Dust, and Garbage
The first and foremost step of home cleaning is to keep the home free of dirt, dust, and garbage, etc. This can be done through washing, cleaning, and removing all the impurities from respective areas of the home.
Ventilation, emptying the garbage bin, and frequently changing bed sheets are also important. Remember, negligence in this regard can make all the home cleaning efforts fruitless.
2. Clean High Touch Surfaces
There are many surfaces in our home that we touch daily (called high touch surfaces) and therefore, they need regular cleaning. Some of them are refrigerators, microwave ovens, doors/locks, countertops, furniture, remotes, telephone, cupboards, and mobile phones.
For cleaning of all these items, we just need soapy water and a sponge. Also, less time will be required for home cleaning if the cleaning of high-touch surfaces is done efficiently.
3. Kitchen Maintenance
The kitchen is the place where we make meals and this place can never be left untidy. Therefore, cleaning of the kitchen is required daily, dishes must be washed regularly with anti-bacterial dish soap. The stove must be cleaned every day and all the countertops should be wiped with a wet cloth daily.
4. Keep the Bathroom Clean and Dry
Bathrooms are one of the most favorite places for germs and are required to be kept clean and dry all the time. So, scouring the toilet seats and scrubbing the washbasins daily is required. Disinfection of floor with the help of an anti-bacterial liquid in mopping water is recommended.
5. Instruct the Kids
We must educate our kids to remain clean, always wash their hands when dirty, and not to write or draw on the walls/tables. Kids can make a house dirty and untidy very easily and quickly, therefore their training in cleanliness is important.
6. Window/Vent Cleaning
Windows and ventilators are also a place where germs and dust can cultivate and affect our health. So, they also need to be regularly wiped to look nice and clean by using blowers or a simple brush.
7. Air Purifier
Using an air purifier is also good for home cleaning. It will make the air inside our home clean and healthy. The use of air purifiers with fragrance releaser can make our home smell good.
Precautions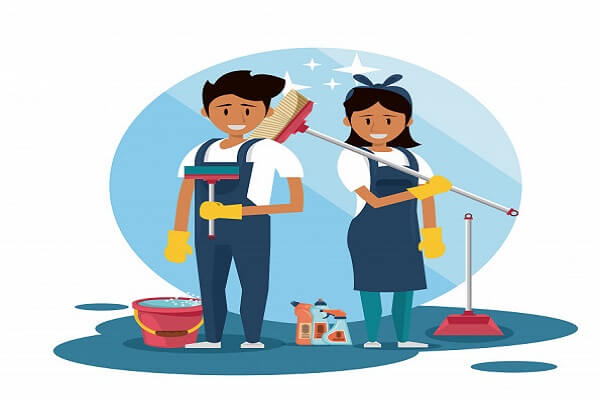 Use skin-friendly products
Consider eye protection by wearing goggles
Always wear rubber gloves
Keep the cleaning items out of reach of children
Replace cleaning items frequently
Do not mix chemical products used for cleaning
Professional Microfiber mop for Hardwood Tile Laminate & Stone Floors Dredge Best All in 1 kit Dry & Wet Cleaning +3 Advanced Drag Resistant Pads|revolutionize Your Mopping Experience
Final Words
From the above discussion on home cleaning, it can be concluded that cleaning our home is not a difficult task but it needs regular effort and a sense of responsibility of all the family members.
Have a healthy life in a clean home.